I welcome many aspects of the Bus Connects Network Redesign:
Orbital Routes
Free transfers to Bus/Luas/Dart/Kildare&Maynooth commuter rail
Reducing congestion on O'Connell Street
Extra services at weekends and during off-peak hours.
Enhanced Connectivity around Dublin City.
However, I have been at a number of public meetings in Dublin North West, and there are a number of recurring themes that are brought up by local residents:
Loss of service in estates (Lorcan, Wadelai,To lka,  and Larkhill). In particular, residents of parts of Lorcan would have to walk 800 meters to the closest bus service.
Insufficient  service to hospitals.
Loss of connectivity between urban villages (e.g. Ballymun and Finglas)
Loss of routes to schools.
I'd like to see the following amendments to the plan
The N8 should originate in Finglas Village, and head north to Charlestown SC, before it heads east. This would restore a connection between Finglas and Ballymun urban villages. It would also allow an easier transfer to the N4 for those who wish to travel towards Blanchardstown.
The N4 should travel into James Connolly Hospital.
The 279 should continue north out of Beaumont Hospital, then on to Oscar Traynor Road, Santry Avenue, Ballymun Road and finishing in Wadelai estate or Finglas Village. The N8 may not need to take a diversion off the Oscar Traynor Road if this is done.
An additional E branch (E3) to continue up the Ballymun Road, and on to Dublin Airport. This would provide a link to the airport for those in Ballymun working in Dublin Airport. It would also provide an easier link to the airport for those living in the south east of the city. It could perhaps follow the route of the E2 on the south side diverging at Glenageary Rd.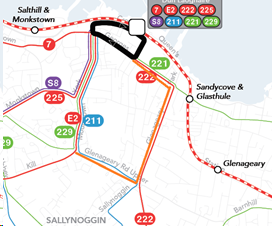 Buses may be full when heading through Santry from the Airport and Swords. Some extra buses should run to/from Coolock Lane (or perhaps Ballyshannon Road near the Lorcan Estate) during the peak periods.
The C1 should run through Sandymount Village, rather than run down the coast road.
Skerries and Rush need express bus services at peak periods.
The O route travels through a congested area around Connolly Station. It may be better for it carry on straight across Amiens Street. It can then interchange with commuter rail at Docklands Station, and also the Luas Red Line and the N4 Orbital.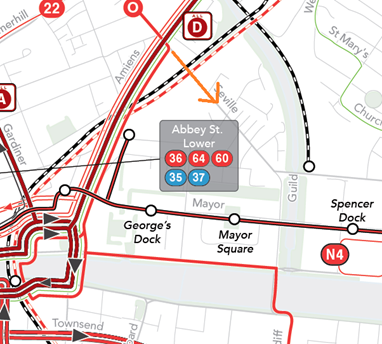 "School Routes" may be needed for the morning and afternoon, particularly around the Glasnevin/Griffith Avenue/Drumcondra areas.
St. Margarets loses its bus services. I'd like to see Local-Link 196 (Swords – Knockestan) extended on to St Margarets and from there to Charlestown, or if the hub there doesn't have sufficient capacity, to the E1 terminus in Northwood. If this is not a suitable route for Local-Link, I'd like to see it become part of the Dublin City network.
John Diamond